Facility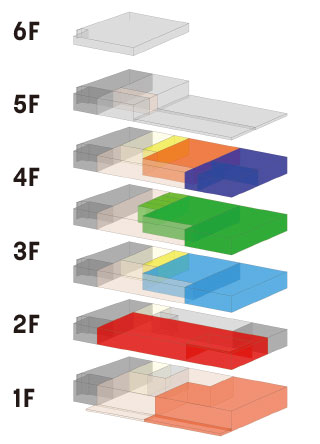 This is a place for everyone. A space to have fun thoroughly with entertainment. Make use of lesson rooms for dance and performances, an open library with a great collection of manga, the latest recording equipment or high-performance computers for animation production to create works that will excite the world.
1F
Entertainment Practice Space
This is a place in which mainly students carry out entertainment programs as part of their practical learning or extracurricular activities. The space serves as a community where you can make connections with local people and tourists from around the world.
2F
Open Library
This library is open to the public and anyone can browse free of charge. There is a wide selection of manga from famous works to the latest popular titles in addition to a complete line-up of books and magazines from various different fields focusing on the entertainment industry. You can view and borrow literature on specific subjects and magazines which cannot be found at normal book stores. There are also a lot of audio sources and materials available
Office and Career Center
Ask anything you need to know here for solutions
3F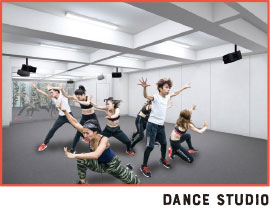 Dance Studio
This dance studio focuses on space and functionality. The layout was designed to adjust the space for professional dance lessons of all genres. In addition to various different dance genres such as hip-hop, tap and ballet, the studio can also be used for acrobat and acting workshops
4F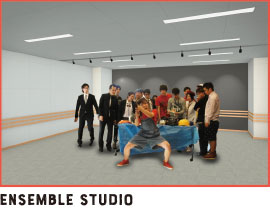 Ensemble Studio
The ensemble studio is a sound proof room with a complete line-up of audio equipment enabling students to practice any kind of music, acting and performance. You can also use this space free of charge by reserving it outside of class time.
5F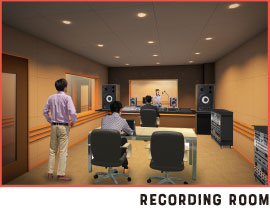 Recording Room
This recording room has a full-scale recording system. Various different lessons such as music recording, voiceovers, radio program production and voice training can be carried out in this professional environment.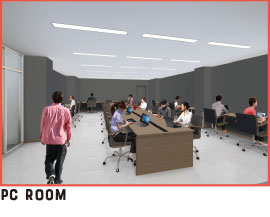 PC Room
This room is fully equipped with the latest cutting edge software and equipment to make computer graphics animation. The facilities include the latest PCs which can handle design and song-making projects.
6F
Equipment Management Office
The reliable equipment management office is where professionals carry out maintenance. You can make a reservation to use professional equipment free of charge.
FREE SPACE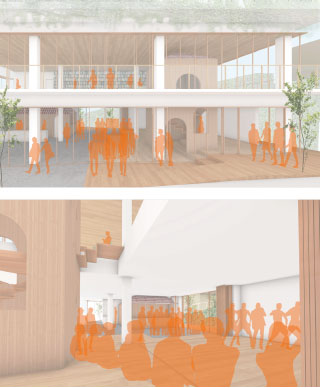 Opening the place to the public to interact with neighbors
The 1st and 2nd floors are open spaces where anyone is free to come and go with events held on a regular basis.
Opening a Kid's Cafeteria in the event practice space on the first floor
Holding Laugh & Peace Dinner Show by comedians and special guests
Setting up a Laugh & Peace yose theater where locals can also perform
Giving entertainment workshops in which people of all ages from children to elderly people can participate
Entertainment workshop
Holding live streaming events featuring professional comedians and TV personalities
Participation, exhibition and appearances/performances for the Great All-island Festival as part of the school festival